10 TOP HOT SPOTS TO CELEBRATE ST. PATRICK'S DAY IN MAINE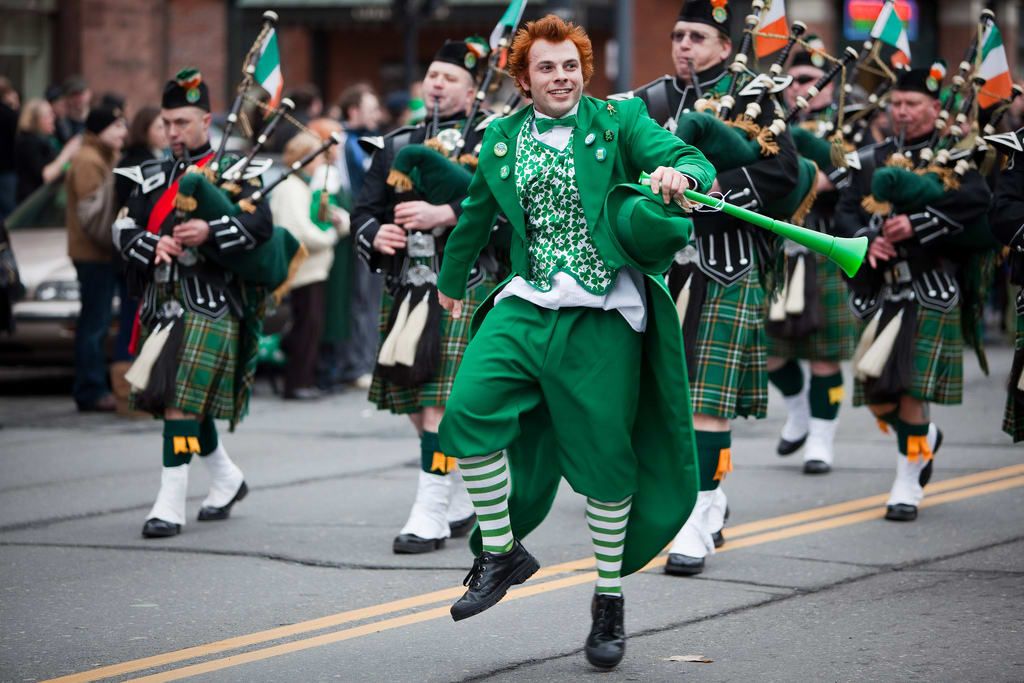 Everyone is Irish on St. Patrick's Day right? Whether you are looking to do an Irish jig, kick back some pints of Guinness, enjoy a parade, or take an ocean dip, put on your green and come check out Maine's local hot spots.
1. Ri Ra Irish Pub, Portland, Maine - Start your St. Patrick's Day with the17th annual Rí Rá Paddy's Day plunge at the East End Beach in Portland in order to raise funds for the Portland Firefighters Children's Burns Foundation. The fun starts at 5:30 am! Then head to the pub to celebrate being Irish with live music, authentic Irish fare & great craic! Doors open early for rugby & Irish breakfast, the party goes continues late into the night!
2. Maine Irish Heritage Center, Portland Maine - The Maine Irish Heritage Center is offering a variety of events starting with the Irish flag raising over Portland followed by the St. Patrick's Day Parade on Commercial Street. The After the Parade Celebration will warm you up back at the Heritage Center with lots of food, fun, music, and dancing. A cash bar is also available.
3. Celtic on Main Ogunquit, Maine - Looking for authentic Irish items for your St. Patrick's Day celebration? Head to Celtic on Maine in Ogunquit jewelry, Irish sweaters, Irish flannel, and, of course, Guinness.
4. Feile Restaurant and Pub Wells, Maine - Join the St. Patrick's Day party. Doors open at 11. No reservations accepted. Join us for a ton of fun on our favorite day of the year! Don Wessels will be performing all your favorite classic Irish songs in the pub from 12-6. The Party Starters Band will take over and rock the night away starting at 7, so bring your dancing shoes!
5. River Tree Center for the Arts Kennebunk, Maine - Celebrate St. Patrick's Day with an evening of song and dance that showcases the talent of River Tree Arts faculty and students. Festivities include Irish Step Dancing and traditional Irish songs from yesterday and today.$5 suggested donation to benefit River Tree Art's Performing Arts Department.
6. Kerrymen Pub Saco, Maine - The Kerrymen Pub in Saco is a popular Irish pub to celebrate the holiday. Serving authentic Irish foods like shepherd's pie and Irish boiled dinner, you find a great beer and wine list, too. But, that doesn't matter since you'll be drinking Guinness anyway.
7. Pedro O'Hara's Lewiston, Maine - This Irish pub and Mexican Cantina is the perfect place to celebrate St. Patrick's Day. Wear your green, dance to some Irish music, and enjoy some tacos. The Shamrockers get the party started 1-4pm, followed by Frisky Matilda from 8-12am and lots of Guinness in between!
8. Byrne's Irish Pub Bath & Brunswick, Maine - Live music ALL day long starting at 6 am until the late hours of the night.
9. Irish Setter's Pub Presque Isle, Maine - With the only Irish pub in all of northern Maine, if you want to celebrate St. Patrick's Day in Aroostook County then you need to head to the Irish Setter Pub in Presque Isle. They will be celebrating with green beer, live music, giveaways, corned beef and cabbage bangers and mash, Celtic chicken, Irish beef stew with Guinness and much more.
10. Paddy Murphy's Bangor, Maine - Celebrate St. Patrick's Day in Maine's largest city north of Portland at Paddy Murphy's. Enjoy a locally brewed a pint of Guinness, wear your green and enjoy the laughter and food.